The Great Recession of 2008 taught Americans a lot, primarily, to save more and spend less by cutting back on those little luxuries and frivolous expenses that were formerly just taken for granted.
The Recession of 2008 also taught our nation a lot about the workplace.  While we might have formerly thought we were not expendable, layoff notices went out and many persons were disheartened to discover we were not as important in our jobs as we thought.  Still others got to keep their own jobs, as well as assimilate the tasks of the former co-workers, or risk "getting the boot".
The economy has stabilized since that rocky time and people now once again feel free to make lateral employment-related moves to other companies without fear of being the low person on the totem pole and losing a position due to reduction in workforce.
But, along with the expectations that employers have of us, and we have of them, comes the glaring fact that in most United States workplaces, your relationship with your employer is that of "at-will".  This means that your employer may terminate you, without notice, at any time, even with "just cause" for doing so.  Likewise, in an at-will contractual relationship, you are similarly free to sever ties with your employer, without notice, at any time.
Basically, yes – you could be severed from your position (even without just cause) but there are exceptions that control and rule the situation.  For example:
If you've entered into an employment contract – depending on the specific terms within an employment contract, you  may not be fired outside of those terms.  In this case, an employment contract, even an implied or unwritten contract,  supersedes an at-will position.
If you've received a company handbook manual or employment policy which specifies no termination without just cause – again, depending on the protections geared toward employees as delineated in company manuals or policies, then an employer provides the provision that termination from employment may only occur for just cause.
The employee has performed a legally protected action for which no employer retaliation is permitted.  Some examples of how an employee is shielded from termination would be:
filing a workers' compensation claim
filing a discrimination or harassment suit against the employer
refusing to perform illegal activities
participating in a workplace investigation
being a whistleblower regarding illegal or unsafe practices in the workplace
requesting reasonable accommodation for a disability
taking a leave of absence from work (such as a family medical leave under the Family Medical Leave Act)
discussing (or complaining about) the working environment or wage and overtime practices
In the case of the FMLA leave, your rights are protected under one of many federal laws geared to the employee's rights in the workplace, as will be discussed below.
Federal laws are your friend
A collection of federal laws enacted at various times help to protect the rights of the employee in matters of discrimination.  Most everyone has heard of Title VII of the Civil Rights Act of 1964, the federal law that prohibits employers from discrimination against their employees on the basis of sex, race, color, national origin, and religion.  It generally applies to employers with fifteen or more employees, including federal, state, and local governments.
The following are some of the pertinent federal laws which protect your rights as a worker:
Discrimination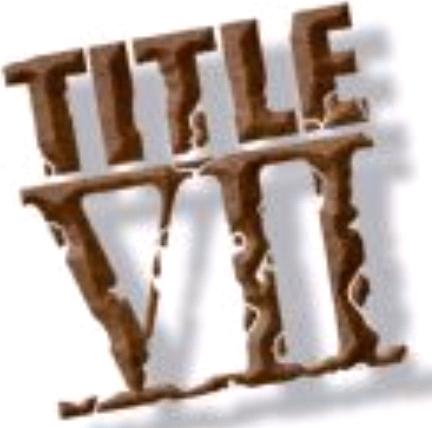 One of the most important federal laws to impact the workplace was Title VII of the Civil Rights Act of 1964, which prohibits an employer or company from discriminating against any employee as to hiring, firing or pay based on that person's race, religion, gender or national origin.  It also prohibits sexual harassment.  Thus, an employee cannot be fired except in the case of their sub-par job performance.
Incidents of discrimination against either a potential new hire or existing employee include:
Age discrimination – The Age Discrimination in Employment Act ("ADEA") is a federal law governing age discrimination. It was enacted in 1967 in an effort to promote the employment of older workers based on their ability rather than age, prevent discrimination, and assist in solving the problems that arise with an aging workforce.  The ADEA classifies an older employee as being age 40 or older; thus, the ADEA forbids the employer to discriminate against any applicant or employee older than the age of 40 just because of their age.
Disability discrimination – The Americans with Disabilities Act ("ADA") is another civil rights act which was enacted in 1990 and prohibits discrimination against qualified people with disabilities in all areas of public life, including jobs, schools, transportation, and all public and private places that are open to the general public. The purpose of the law is to ensure that people with disabilities have the same rights and opportunities as everyone else.  As to the ADA in the workplace, the Act defines a qualified person with abilities as those who can perform the job's essential functions, with, or without, a reasonable accommodation.  Soon after the ADA was enacted, every public place had to ensure their buildings were up to code, both inside and outside, to create reasonable accommodations for any person with a disability.  This included restroom accommodations (at least one wide stall with grab bars) and parking accommodations.  Every workplace had to do likewise to ensure any/all disabled employees would have reasonable accommodation.
Pregnancy discrimination – The Pregnancy Discrimination Act of 1978 ("PDA") is a United States federal statute that amended Title VII of the Civil Rights Act of 1964 (referenced above) to specifically "prohibit sex discrimination on the basis of pregnancy".  The Act prohibits job discrimination on the basis of pregnancy, childbirth and related medical conditions.  Under the PDA, an employer is not permitted to deny a job or promotion merely because its employee is pregnant or had an abortion, nor can she be fired for her condition, nor forced to go on leave.
Leave of Absence
There are various types of leave from the workplace that employees are entitled to.  The types that most people are familiar with are:
Family leave – The Family and Medical Leave Act ("FMLA") is a federal law that was enacted in 1993 to help workers balance workplace demands with the medical needs of their families. Employees are entitled to take up to 12 weeks of unpaid leave during a 12-month period in relation to a personal serious health condition, or to care for an immediate family member who has a serious health condition.   Not all FMLA leaves are for medical leaves for catastrophic illnesses.  Some employees utilize the FMLA as an extended parental leave time for the birth or adoption of a child, and for bonding with a new foster child.  The extended parental leave time has been endorsed by the Department of Labor website which refers to this time period as a leave for "birth and bonding".  There are some criteria involved with seeking this approved time off, however.  Eligible employees typically must have logged at least one year of service with a company to be permitted to take up to twelve weeks' unpaid and job-protected time off from work.  Additionally, the FMLA only applies to organizations with fifty or more employees.
Military leave – The Uniformed Services Employment and Reemployment Rights Act ("USERRA") was passed by the United States Congress and signed into law by President Bill Clinton on October 13, 1994. Its goal was to protect the civilian employment of non-full-time U.S. military personnel called to active duty and applies to all U.S. uniformed services and their respective reserve components.  Thus, military personnel are protected in the workplace, since the law makes it illegal to discriminate against employees who volunteer or are called to military duty.  A good example of how the USERRA comes into play in the workplace would be reservist that returns from active duty tours of less than five years, and must be re-entered into the workplace at their former job or to an equal job.
If you wish to learn more about the various federal law protections afforded to you as an employee, please consult with an employment law attorney for any employment law-related questions you might have.