One of the foremost questions people have on their minds when they find themselves in need of legal representation is, "How will I pay for this?" Naturally, those who are fortunate enough never to need an attorney will not have to worry, but many of us will at one time or another end up in a legal bind wherein hiring an attorney will be quite valuable. In those cases, it's helpful to understand how lawyers are paid in order to decide which type of fee will work best for your particular situation. It's also important to know that if you cannot afford an attorney, there are programs available that could help. Top lawyers are able to answer all your questions about the different fee options in the legal profession, such as contingency fees, hourly fees, fixed fees, and retainers. Following is a breakdown of what these mean and how they work.
It's important to know that oftentimes the fee arrangement will be dependent upon which type of case you need representation for, such as divorce, criminal, foreclosure, landlord/tenant, etc. It may also be decided by the amount of research involved, how much time an attorney will need to spend in court, and the amount of time that will be needed to come to a resolution of your case.
Contingency
Contingency fees typically are used in cases that involve personal injury. The word 'contingency' literally means 'a future circumstance that is possible but can't be predicted with certainty,' which is why personal injury cases often utilize this type of fee arrangement. Contingency fees are most often used in accident cases where someone has been injured and is suing someone they believe is at fault in order to receive a monetary award. The fee would be contingent upon your attorney obtaining money, either through the judgment or through a settlement. In this type of case, your attorney will be entitled to receive a designated percentage of the award or settlement. If the case is lost, typically there would be no attorney's fees. However, it is important for anyone who enters into this type of fee arrangement with an attorney to know that they often are responsible for paying court costs and other expenses such as for expert witnesses, etc.
Hourly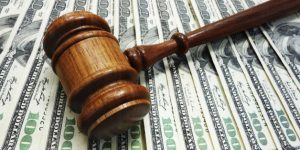 Some attorneys fix their fees at a designated hourly rate, with rates vary depending on which law firm or attorney you choose to hire. Be sure to get all attorneys' hourly rates upfront before signing any contracts. It's also a good idea to ask for an estimate concerning how many hours they assess your case may take.
Fixed
Fixed rates typically are charged for such routine legal matters as simple wills, real estate closings, etc. In this case, it's important to make sure you know in advance the amount of fees that will be charged and for which services.
Retainer
Many companies will hire an attorney or law firm on a retainer basis, meaning the lawyer will accept a down payment toward legal services and the firm or individual lawyer will perform services. It's important in this type of fee arrangement to know in advance if there are additional costs involved for such thing as extra hours worked.
Regardless of the fee arrangement, it's very important that you find out in advance of hiring an individual or a law firm exactly which types of fees they will use on your case. It's also best to try to get an idea ahead of time how many hours they believe your case may take, as well as if you'll be expected to pay court costs (especially if your case will be taken on a contingency basis).
There are some legal issues for which hiring a lawyer isn't needed, particularly small claims cases. However, most legal issues are better resolved by hiring an attorney. A lawyer has the education and experience required to navigate the law and its intricacies infinitely better than you do. And if your case is a criminal one wherein you're the defendant, representing yourself would be a very bad idea. If you find yourself with legal issues but you don't know how you'll pay for legal representation, there are options available to you, including legal-aid clinics and law schools, federally funded programs, and court-appointed defense lawyers.