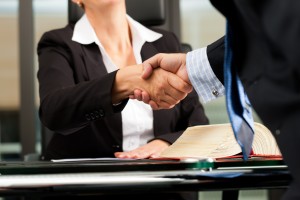 Every New Jersey attorney is required to handle all their professional legal matters according to the Rules of Professional Conduct. The RPC outlines how lawyers are to conduct themselves in an ethical manner. Following these rules of conduct can help protect clients from lawyer's unethical practices but they are also in place to provide protection for lawyers. Rule 7.3 offers the guidelines by which lawyers should handle personal contact with their clients or prospective clients. Lawyers must be allowed to initiate contact with clients but only for obtaining employment, however, there are certain requirements which must be met. An attorney cannot accept a client if they know that the individual is trying to obtain the lawyer's services in a way that is prohibited by RPC Rule 7.3.
Section b of Rule 7.3
This section goes into great detail to outline when and how a lawyer can obtain employment. The NJ attorney cannot initiate communication with a person who is in an emotional, physical or mental state such that they cannot exercise judgment which is reasonable when hiring a lawyer. A lawyer is not allowed to communicate with an individual who tells the lawyer that they do not want any form of communication with them. Any type of communication which is initiated by harassment, duress or coercion is forbidden as well as unsolicited contact which occurs within thirty days of a mass-disaster.
According to section b of Rule 7.3, unsolicited contact with a potential client is not prohibited even if the motive is financial gain. However, there are certain criteria that must accompany the contact. Written letters must display the word, "advertisement" in all caps, openly at the top of the page as well as on the outside portions of the envelope. The letter must also contain a notice on the bottom of the page that states, "Before making your choice of attorney, you should give this matter careful thought. The selection of an attorney is an important decision." The final page must also state a notice which states that any misleading or inaccurate correspondence should be reported.
Sections c and d of Rule 7.3
Promotional activities are not to contain any misleading or falsified statements. Attorneys are not allowed to participate in organizations which pay for legal services which help promote the use of an attorney's services. There can be no coercion, dues, threats, overreaching, intimidation, compulsion or excessive promises or benefits used to obtain clientele. And lawyers are prohibited from compensating a person or an organization which helps the client secure a lawyer's services.  It is unethical to provide a reward for recommending a lawyer for professional employment except for those permitted by RPC 7.1.
Section e of Rule 7.3
This final section of Rule 7.3 of the Rules of Professional Conduct covers how organizations and offices can recommend a law firm or a lawyer and their services. As long as there is no interference that compromises the professional judgment on the client's behalf referrals can be made. Legal aid offices or public defender offices can make a referral to a lawyer or a law firm as long as the legal office is being operated by a bona fide nonprofit community organization, an approved bar association, a duly accredited law school or a governmental agency. Lawyer referral services may make recommendations for legal services as long as the referral service is sponsored, approved or operated by a bar association; or if it is a military assistance office. Section e explains the specifics of the conditions which must be met when a bona fide organization recommends, furnishes or pays for legal services for those who are members of beneficiaries.