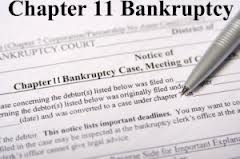 A Chapter 11 bankruptcy is sometimes called a "business bankruptcy" even though it can also be a good choice for an individual. A Chapter 11 allows a business or debtor to continue their normal operations while they come up with a "plan for reorganization." In some circumstances they can create a plan for liquidation as well. It is essential to discuss the particulars of the case with a bankruptcy attorney in NJ to determine if it is beneficial for a particular situation. Just like the other types of bankruptcy codes the debtor in a Chapter 11 bankruptcy is trying to get his debts discharged but very few of those who file for this type of bankruptcy come through it with the business and ownership still intact. In the vast majority of cases the Chapter 11 works to form a new entity even though it will usually have the same name as the old company which went bankrupt. The newly formed business typically has new management along with a new structure of ownership. But there remain some very distinct benefits to filing this particular type of bankruptcy.
Advantages to Filing a Chapter 11 Bankruptcy
When a business owner faces financial struggles it is good to know that there are some options available. Filing for a Chapter 11 bankruptcy has some advantages for the business owner. One of the biggest advantages is that the business can continue its normal operations and work on paying off debts. There are also no debts that are considered to be non-dischargeable and there is some freedom allowed to restructure any secured debts so that payment amounts can be reduced and spread over a lengthier amount of time. Chapter 11 bankruptcy will also allow debtors to pay back unsecured debts partially. And when the bankruptcy is filed there is an automatic judgment which ensures creditors cannot contact the business owner at home or at work.
What's different about a Chapter 11 bankruptcy?
Chapter 11 bankruptcy differs from a Chapter 7 in that the business owner is allowed to continue the regular operations of their business but under supervision of the court. They can also retain all of their assets and possessions. When a Chapter 11 is filed by either an individual or a business the debtor has to begin to reorganize their business plan. The plan once it is finished must be approved by the creditors committee before the debtor is allowed to begin the actual reorganization of the business' structure. Unlike some of the other available bankruptcies the Chapter 11 will allow the debtor to design their own reorganization plan as well as act as the trustee for the plan. This means that they are in charge of how the payments will be made, which debtors will be paid and how much each of them will be paid. This activity is closely monitored and regulated by the court and if the debtor is inconsistent in making the payments as they were agreed upon their case will be dismissed or it will be converted into a different type of bankruptcy.
What is the purpose of a Chapter 11 bankruptcy?
Any business can find themselves in financial situations that need debt resolution with creditors. Chapter 11 bankruptcy is sometimes referred to as reorganization since it allows a business to continue its operations by protecting them from creditors and offering the court's oversight. In one sense it is simply an opportunity for a business to restructure without having to lose everything. Businesses which choose a Chapter 11 bankruptcy may have issues with creditors and simply need to restructure their business so that they can pay on their debts.